Traditional Metal Braces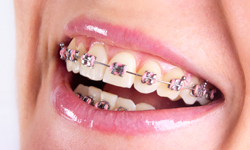 Traditional metal braces are the most common type of braces and are more comfortable today than ever before. Made of high-grade stainless steel, metal braces straighten your teeth using metal brackets and archwires. With metal braces, you have the option of adding colored elastics (rubber bands) for a more unique and colorful smile.
Self-Ligating Braces
Self-ligating braces are made from the same materials as traditional braces. However, self-ligating braces do not require the use of elastics, meaning fewer appointments and less friction being placed on the tooth. Self-ligating braces come with traditional metal, or ceramic (clear) brackets. They are the same size as metal braces, but use a specialized clip in place of elastics to help the archwire guide teeth into place. The clip helps reduce the amount of pressure being placed on the tooth, and requires fewer adjustments because there are no elastics to replace.
We use two kinds of self-ligating braces. We use In-Ovation R, which are metal. And we use In-Ovation C, which are ceramic.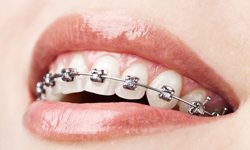 The In-Ovation R system uses a free-sliding technology that places almost no pressure on your teeth as it gently guides them into proper alignment. Less pressure means a more comfortable treatment.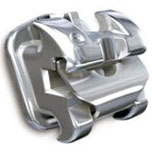 In-Ovation R enables you to comfortably, conveniently, and quickly transform your smile from average to artistic.
The In-Ovation R system was designed with patient comfort in mind. Each bracket has been engineered to the smallest specification possible, meaning you enjoy a less intrusive treatment procedure. And the free sliding technology means fewer appointments and less chair time. It's a treatment that fits your life and your lifestyle, all while helping you achieve the smile you've always wanted.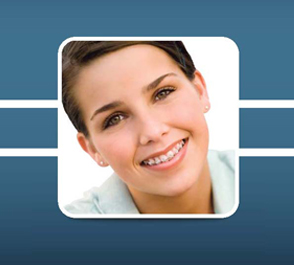 Your smile is more than an expression. It's a wearable work of art that portrays the person you are. That's why we offer In-Ovation C system braces.
In-Ovation C braces are crafted from a translucent ceramic that naturally blends with your teeth.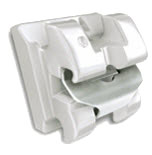 This enables you to smile with confidence while you're getting treated. In-Ovation C is the comfortable, convenient, and discreet way to transform your smile from average to artistic. But that's only the beginning. With In-Ovation's efficient system, fewer appointments are required to complete treatment. The system also reduces the need for time-consuming tightening procedures of changing elastics, which means your appointments can be shorter and less involved.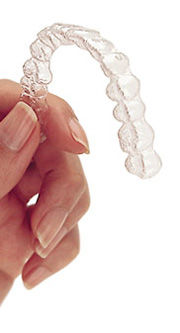 Invisalign clear aligners are a series of invisible, removable, and comfortable acrylic trays that straighten your teeth like braces.
Not only are the aligners nearly invisible, they are removable, so you can eat and drink what you want while in treatment, plus brushing and flossing are less of a hassle. The aligners are comfortable and have no metal to cause mouth abrasions during treatment.